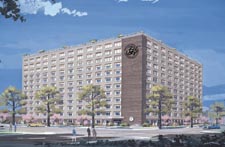 In 1916, a group of eight Presbyterian women from Brooklyn, New York were moved by their faith to take care of twelve mothers widowed by World War 1. During the following 40 years, their ministry grew so large, the humble facilities they were utilizing became unsuitable to meet the needs of the population that were being cared for.
In 1955, 11 acres of the Willock Estate in Syosset were purchased. This became the site of the United Presbyterian Residence, which grew to embrace almost 700 residents. During this period, the Reformed Church came in as a partner to the Presbyterians. This partnership paved the way for the future creation of United Presbyterian & Reformed Adult Ministries.
In 1969 the First Congregational Church of Flushing, which occupied the comer of 38th Avenue and Bowne Street, was destroyed by fire. Also at this time, the management company of the United Presbyterian Residence was looking to expand their ministry to provide housing and other services for seniors who could live independently. The former site of the Congregational Church was purchased, and in 1974 construction on Flushing House began. The first residents moved in the following year.


A decade later the ministry expanded again. Wanting to reach out to seniors living independently at home, United Lifeline was created. In 1983, United Lifeline delivered their first personal emergency response system to a Queens senior.
The year 1994 marked another milestone in Presbyterian and Reformed ministries. The United Presbyterian Home in Syosset was sold to Winthrop University Hospital, and UPRAM was formed to carry forward the ministry of the churches to the elderly. Sponsored by 245 churches in Metro New York City and Long Island, UPRAM now ministers to over 2500 seniors.



questions@upram.com
Douglas Kurtz
President




United Presbyterian & Reformed Adult Ministries
38-20 Bowne Street
Flushing, NY 11354
(718) 762-3198